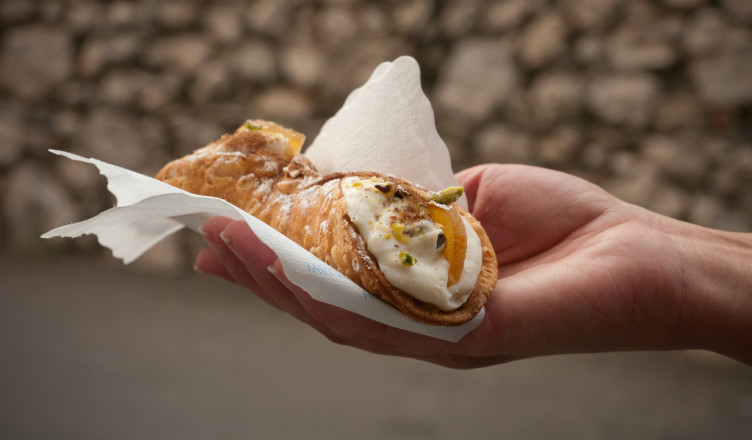 All over the world Sicily is known for its charming history, but what about the cuisine? Sicilian food is a big world to experience. Today we suggest you a dessert really able to feed your senses: the Sicilian cannolo.
It is the best-known Sicilian pastry and it has been brought by Arabs during the Emirate in Sicily. Its name probably comes from the Arabic Qanawat and it is also curious to know that in Sicilian dialect the term cannolu means "little tube".
One of the most important aspects in Sicilian cuisine is the accurate search for quality and freshness of the ingredients.
Cannolo is one of the incredible temptation you can't resist at all: it is composed by a crispy wafer tube filled with sweet creamy ricotta cheese – from sheep's milk -, candied fruits and chocolate chips.
Candied fruits – partcularly oranges, cherries and lemons – are sometimes mixed into the cream; but they are usually used as a delicious and edible decorations.
Have you ever tasted cannolis? If your answer is "no" trust us: biting a cannolo will show you the difference between a dessert and the king of the sweets.
So, to get the best out of Sicilian culture you have to try cannolis, let  invade your senses and definitely know the sweetest essence of Sicily.