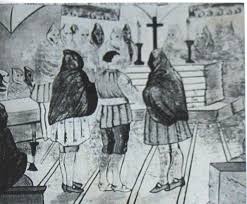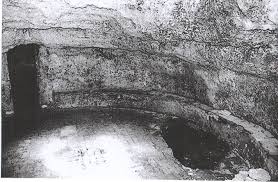 I Beati Paoli were a Sicilian secret society – of uncertain origin – made up of Avengers-executioners-killers, presumably born in Palermo, with the name of vendicosi, around the 12th century. The association was formed, according to Francesco Maria Emanuele Marquis of Villabianca, as a reaction to the overwhelming power and the oppression of the Nobles, which administered directly criminal justice in their fiefdoms. Beati Paoli candidate themselves as a criminal organization, characterized by a "name", a "title," almost as many revered  and noble Brotherhoods, perhaps connected with the power proponents. The members of the sect were not only "thugs" because they recruited also gentry and landowners in their sect instead of people of the lowest social rank.
 Beati Paoli,according to the Marquis of Villabianca, would be really a sect of assassins who met in secret (after midnight, by the light of candles and hooded in black) in the underground vaults of Capo district, in Palermo, to concoct some criminal plans and to organize a sort of court. Their clients were part of the social middle class, since they couldn't afford the service of armed men, as the members of the nobility, they turned to the congregation for their personal vendettas or the execution of criminal acts,  taking advantage of her reputation of mystery.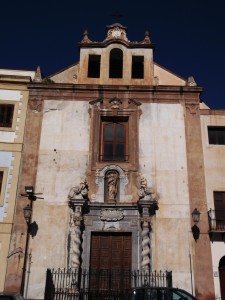 The alleged hideout of Beati Paoli is accessible through an existing crypt in the church of Santa Maria di Gesù al Capo, in Palermo  . Above the cave there is the building of the nobles Baldi Blandano:  on the first floor, through a small door, you can reach the cave. The cavity (probably a so-called "Room of the Scirocco," hewn from aristocrats to rest in a cool place during the hot summer days) is characterized by a room with a well and a semicircular seat, and with two narrow tunnels leading to other caverns. The underground, visited by Luigi Natoli (1857-1941) and described in his novel, was used as a refuge during the bombings of World War II: currently the town of Palermo has undertaken works on his recovery.
In Palermo there are some cultural associations which organize guided tours on the way of Beati Paoli, so you can take the chance to do that, while staying in one of our Villas in Palermo.